The Majik Bottle - Superhooch (EP review)
Year - 2017
A blazing and ferocious sophomore effort from Coventry band Superhooch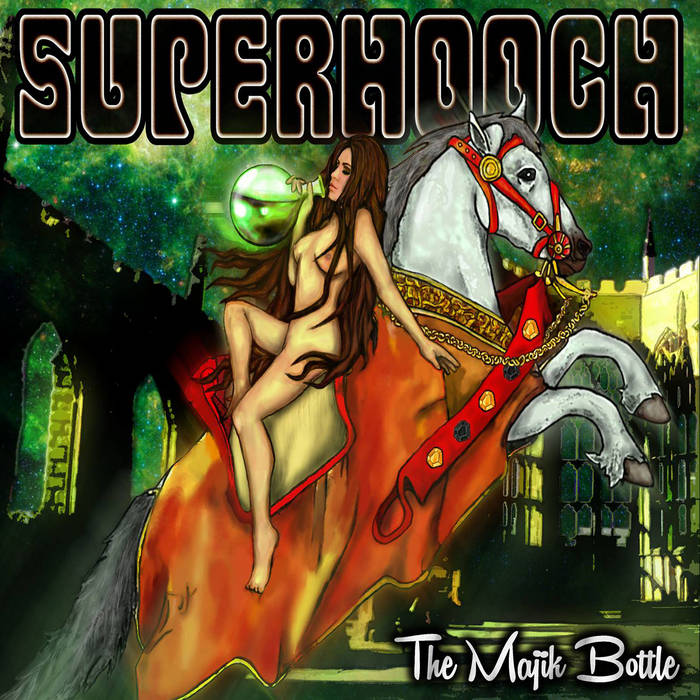 Superhooch set off strongly with The Viscous EP, an EP any band would find difficult to follow, however Superhooch have followed up their debut incredibly well, by retaining their unique sound but also by adding in new, more complex techniques to their music...
Fast Cars and Blank Faces
starts off the EP, with growling dual guitar riffs from Chris Worsley and Johnny Kingham, but not in a pretentious "play fast to look good" way like bands such as Avenged Sevenfold do, instead the duo incorporate a very doomy feel to the riffs, but manage to keep the stoner psychedelic sound that featured on their debut. This clear new musical influence keeps The Majik Bottle interesting and not just a rehash of The Viscous EP with both Fast Cars and EP closer Lost in the sky feeling like a doom metal song spliced with 70s rock, a combination that proves to work well.
The Lizard
is something completely new for Su
perhooch in that the song does not fit with the rest of the EP, having a catchy bass line by Steve Clarke rumble in the background as Jonny Worsley sings over the top, not fitting in doesn't make it bad by any means, as unique songs show off the creative ability of a band, definitely not the EP's strongest point, but still an enjoyable, albeit odd, song.
Worsley's vocals are stronger than before, and no songs show this more than
Stigmatize
, a fast paced attack that builds up the anticipation for follow up track:
Slow Burn
.
Slow Burn
is easily the strongest song on the album, both musically and vocally, Worsley shows off a wide range and gives off a convincing and emotional delivery. Clarke open ups the track with, what appears to be, a Sabbath inspired bass riff that is heavy but also catchy, showing off their influences but not ripping them off, a task many artists can never manage (and end up just straight up stealing from other bands). Throughout the track Clarke fills in with smooth and technical bass lines, theses connect and lock with Peanut Marshall's drums that are heavy hitting and fast, feeling even stronger than his drumming on The Viscous EP, as a whole the rhythm section never disappoint on this album.
The Guitar work is also deserving of praise, both Worsley and Kingham play soulfully but technically at the same time. Worsley's rhythm work is heavy and blares through whilst Kingham's guitar playing appears much more based around 70's and 80's heavy metal/hard rock style. These two styles work very well together and add to the size of the band's size, on tracks like Slow Burn it is hard to believe that this only a 5 man band making such a big sound - the two guitarists synch in a way that shows tight musicianship and a good working relationship in song writing.
Numbskull
follows, and it is not disappointing, and considering it follows the best track off the EP, it shows the song is worth praise. Sounding aggressive, this is a fiery and bloody track that's tone is made by the vocal delivery of Worsley and the guitar work of Kingham and Worsley.
The Majik Bottle closes with the first single off the EP,
Lost in the sky
, a track that heavily features Chris Worsley on vocals alongside his brother Jonny. This adds a nice change to EP that doesn't make it boring or monotonous. An odd combination of doom metal and psychedelic rock,
Lost in the sky
deals with drug use/abuse and it switches in tone, going from a almost tortured retelling of drug use during the verses, then during the chorus the 7 minute epic changes into a fast paced offense that has Worsley wailing "We're dancing on the line drinking SUPERHOOCH", a great reference to the band's name which is named after an alcoholic drink. A great song that closes the EP leaving the listener wanting more. A 7 minute song that remains interesting throughout is a sure sign of great musicianship and song writing ability.
The Majik Bottle tops The Viscous EP, a surprising feat, considering the strength of that release. The new writing styles work well for the band and prove they don't rinse and repeat their songs, easily one of the best independent releases from a rock band that clearly have a passion for their art, all the songs are produced well and are mastered by bassist Steve Clarke, clearly the band didn't want to just write great songs, but to also have them be of a high production value, something many unsigned bands do not do (or can't do). Overall The Majik Bottle is a hard hitting mix of genres that forms 6 truly brilliant tracks, and also offers a new best song for the band -
Slow Burn
.
Superhooch are one of the best bands on the Coventry music scene and deserve a high amount of attention and praise for their efforts that have so far, never fell short.
by Daniel A. Clarke